Career Technical Education (CTE/STEM)
Career and Technical Education (CTE) is no longer simply wood shop or automotive technology. Today, CTE includes a wide variety of disciplines that allow students to experience hands-on learning and acquire skills that are transferrable to a multitude of future career pathways in healthcare, construction, technology, engineering, digital media, and many more.
At Warrenton High School, state-approved CTE programs of study provide:
Academic Preparation & Technical Skills Attainment: CTE provides rigorous, industry-focused technical instruction and work-readiness preparation that integrates academics in a rigorous and relevant curriculum
Engagement & Relevance: CTE students receive real-world, industry-relevant, hands-on learning experiences, both in the classroom and in the community where industry professionals share their skills and expertise to bring real-world authentic learning opportunities.
Alignment to postsecondary programs & industry recognized standards: Every CTE program of study must align to a postsecondary CTE program and industry recognized standards and informs clear pathways to certifications and degrees
Higher Graduation Rates: Since 2011, students who complete just one (1) credit in CTE have graduated at an average rate of 88%.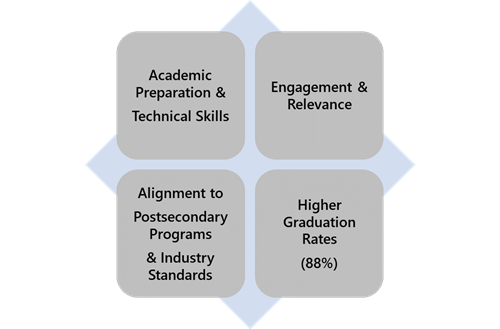 WHS CTE Program of Study Areas
Natural Resources - Fish Hatchery on Campus

Arts, AV, Communications - Graphic Design

Health Sciences

Transportation - Automotive Technology

Welding