Career Technical Education (CTE/STEM)
The Warrenton Hammond School District prohibits discrimination in employment and all educational opportunities.  All programs, including career and technical education opportunities, are available to all students, including state and federal protected classes (race, color, national origin, sex, sexual orientation, gender identity, religion, marital status, age, and disability).    This includes but is not limited to courses and programs in Graphic Design, Natural Resources, Automotive Technology and Welding, and Health Services.  The lack of English language skills will not be a barrier to admission and participation in Career & Technical Education programs.
The District's Title IX and Title II Officer is Tom Rogozinski ([email protected] or 503-861-2281 ext 304), and the District's Section 504 Officer is Suzanne Harris ([email protected] or 503-861-2281 ext. 224).  
Career and Technical Education (CTE) is no longer simply wood shop or automotive technology. Today, CTE includes a wide variety of disciplines that allow students to experience hands-on learning and acquire skills that are transferrable to a multitude of future career pathways in healthcare, construction, technology, engineering, digital media, and many more.
At Warrenton High School, state-approved CTE programs of study provide:
Academic Preparation & Technical Skills Attainment: CTE provides rigorous, industry-focused technical instruction and work-readiness preparation that integrates academics in a rigorous and relevant curriculum
Engagement & Relevance: CTE students receive real-world, industry-relevant, hands-on learning experiences, both in the classroom and in the community where industry professionals share their skills and expertise to bring real-world authentic learning opportunities.
Alignment to postsecondary programs & industry recognized standards: Every CTE program of study must align to a postsecondary CTE program and industry recognized standards and informs clear pathways to certifications and degrees
Higher Graduation Rates: Since 2011, students who complete just one (1) credit in CTE have graduated at an average rate of 88%.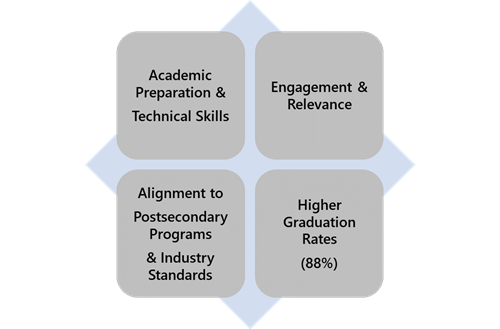 WHS CTE Program of Study Areas
Natural Resources - Fish Hatchery on Campus

Arts, AV, Communications - Graphic Design

Health Sciences

Transportation - Automotive Technology

Welding